Tokyo Fish Market Walk & Sushi Making (8:00) (WT01)
Explore Tsukiji fish market on this intriguing guided walking tour. Stop to shop for Tuna then have the chance to make three kinds of sushi. Participants will be surprised and delighted by the beautifully created sushi.
Time/Date
8:00 - 13:30
Please check "Tsukiji Fish Market Walk Calendar". (Click here)
Program Fee
(Per Group in Japanese yen)
Number of
Participants

1

2

3

4

Over 5people *1

8:00 - 13:30
*1: each additional person
*The cost of ingredients are included.
Meet at your hotel (Meeting Place)
・Guides are always available in English. Please contact us if you need guides in French or Spanish.
・The tour price includes the following fees: transportation, lunch
・For tours within Tokyo: pick-up service from hotels is available. Select a hotel that is located within 10 minutes walk from any station on the Yamanote line or within the Yamanote line circle. Tour fee includes public transportation such as JR railway, subway and/or bus. For taxi or hired car, supplementary fees will be charged.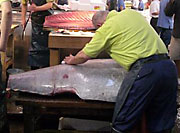 Slicing Tuna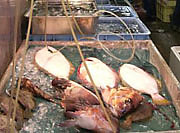 Inner Market of Tsukiji
Tour Point
Tsukiji Walk
Tokyo is one of the most famous gourmet cities in the world. It is the famous Tsukiji Market, with a total area of 230,000 m2, that makes this possible. A professional tour guide will escort participants around the market, safely in a small group, exploring both the vegetable and fruit areas plus the impressive seafood section.  On offer in the seafood section are more than 480 different kinds of seafood ranging from fresh fish to shellfish, and prawns. There may also be an opportunity to see a complete tuna being cut and filleted. Guests on this experience will also enjoy browsing in various kinds of shops selling all manner of ingredients from fish to vegetables and nori (dried seaweed), plus in the outer market participants can shop for dried goods.
Making Sushi
Learn to prepare "maki sushi" (rolled sushi), "gunkan maki" (sushi rice wrapped with a strip of seaweed and topped with soft ingredients), and "nigiri sushi" (sushi rice topped with a slice of raw fish). The beautiful sushi designs created are sure to delight and will appeal to guests of all ages, especially children.
Sushi Party
After making sushi and arranging them beautifully, it's time for a sushi party and to enjoy eating together.
Following the tour participants may take with them the utensils used in the cooking lesson. Impress your friends with your new sushi making skills – the perfect Japanese souvenir!
The guide will take you back to the nearest station.
Application Procedure
Step1: Please send the following information to IJCEE at truejapan@ijcee.com.
1. Desired program name 2. Desired date and time 3. Number of participants (including children) 4. Group leader's name 5. Group leader's nationality 6. With or without pick-up
Step2: IJCEE will reply and inform whether or not the program is available.
Step3: Please purchase ticket(s) using the form below. You can pay with your credit card, debit card and PayPal acount.
When you click the "add to cart" button, you will be directly transferred to the PayPal shopping cart page. Please change the quantity if you would like to buy more than one ticket. Following this, please click the "Proceed to checkout" button.
Tokyo Fish Market Walk & Sushi Making (8:30) (WT01)
"View Cart" Button
Please use this button when you'd like to check "Your Shopping Cart".
*If the number of quantity is incorrect, check the "remove" button and click the "update cart" button (on "Your Shopping Cart"). The quantity will return to 0.
Step4:Payment from PayPal will be sent after receiving the program fee from you. Please come to the meeting place on the day with the copy of the mail. IJCEE staff will be waiting for you with name plate.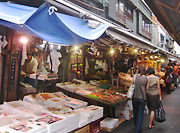 Outer Market of Tsukiji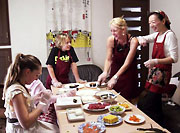 Have fun!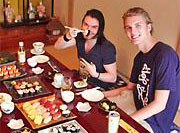 Sushi Party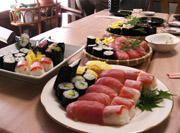 Beautiful sushi you will make
Cancellation Charge (Cancellation Policy)
If you cancel your reservation, the following cancellation rates and remittance charge will be charged.
(1) 14 days - 3 days prior to the program date: 20 % of the program fee
(2) 2 days of the day before the program date: 50 % of the program fee
(3) a day before the program date: 100 % of the program fee
Tsukiji Fish Market Walk Tour Calendar
Please use this calendar when you'd like to check the dates.
| | | | | | | |
| --- | --- | --- | --- | --- | --- | --- |
| Code | Tour Title | | | | | |
| WT01 | Fish Market Walk & Sushi Making (8:30-13:30) | | | | | |
| WT02 | Fish Market Walk and Sushi Lunch (8:15 - 11:30) | | | | | |
| WT06 | Fish Market Walk -from Hotel (8:15-10:45) | | | | | |
| WT07 | Fish Market and Asakusa Walk -from Hotel (8:00-12:00) | | | | | |
| WT15 | Tuna Auction Watching Tour (4:00-8:00) | | | | | |