Institute for Japanese Culture Experience and Education -IJCEE-
Japanese Culture Experience and Sightseeing Tours
More than 410 experts and tour guides will give you Japanese culture experience and tours in English, French, Chinese, Spanish, German and etc.
Access to IJCEE / Payment by Credit Card / Payment by Bank Transfer
about New Year holidays / Application Procedure / Mail: info@ijcee.com

IJCEE / IJCEE KYOTO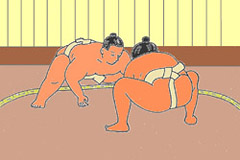 Sumo Wrestler Morning Training Watch in Osaka (WS01)
25th Feb. - 6th Mar. 2014
Why don't you enjoy watching the Sumo training?
Now it's the only term that you can watch it in Osaka.
Don't miss the chance!
Standard time table : 7:45 - 10:45
Fees : 1person 11,000yen / 2people 14,000yen

More Informations