Tokyo Fish Market and Asakusa Walk -from Hotel (WT07)
Walk around and feel the energy and excitement of the world's biggest fish market Tsukiji. More than 480 kinds of seafood are in the market and various kinds of shops in the outer market.
After that, you'll visit Asakusa. Since the Edo period(1603-1868)Asakusa has been the most popular tourist site in Tokyo. You'll see and enjoy a traditional site of Japan.
Time/Date
8:00-12:00
Please check "Tsukiji Fish Market Walk Calendar". (Click here)
Program Fee
(Per Group in Japanese yen)
Number of
Participants

1

2

3

4

Over 5people*1

8:00-12:00
*1: each additional person
*Guides are always available in English. Please contact us if you need guides in French or Spanish.
Meet at your hotel (Meeting Place)
*The tour price includes the following fees: Guiding fee, public transportation costs such as trains and buses. (For taxis or hired cars, additional fees will be charged.) The cost of lunch, beverages and sightseeing activities is not included.
*For tours within Tokyo: pick-up service from hotels is available. Select a hotel that is located within 10 minutes walk from any station on the Yamanote line or within the Yamanote line circle.
Course
*Pick up from customer's hotel lobby, and then travel to Tsukiji via public transportation, such as the JR or Metro lines. After that visit Asakusa. (Senso-ji Temple, Nakamise Street and Dempoin Street) The tour will conclude at Asakusa staion. (Ginza line or Asakusa line)
*Tuna auction watching is not included in the tour.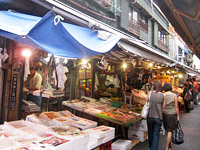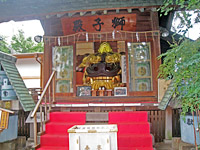 Tour outline
Tsukiji
Tokyo is one of the most celebrated gourmet cities in the world, and it is the famous Tsukiji Fish Market, with a total of 230,000m2 , that makes this possible. In accordance with the visiting rules established by the Tokyo Metropolitan Government, a professional tour guide will show participants around the market safely in small groups of 4 or less. More than 480 different kinds of seafood are on display in the market ranging from fresh fish, to shell fish and, of course, the highly prized tuna. There may also be an opportunity to see a whole tuna being cut and filleted by one of the market's skilled workers. No visit to Tokyo would be complete without experiencing Tsukiji Fish Market, and the busy shopkeepers and craftsmen who continue to work their traditional skills and way of life there.
Asakusa
Since the Edo period(1603-1868)Asakusa has been the most popular tourist site in Tokyo. Today, Asakusa remains the No.1 destination for foreign tourists. Nakamise street is the oldest shopping arcade in Tokyo, and is always bustling with visitors en route to Senso-ji Temple. Be transported back in time in Dempoin Street, where you can enjoy the atmosphere of the Edo period. In Asakusa, you can be sure to find many delicious restaurants and souvenir shops.

Application Procedure
Step1: Please send the following information to IJCEE at truejapan@ijcee.com.
1. Desired program name 2. Desired date and time 3. Number of participants (including children) 4. Group leader's name 5. Group leader's nationality
Step2: IJCEE will reply and inform whether or not the program is available.
Step3: Please purchase ticket(s) using the form below. You can pay with your credit card, debit card and PayPal acount.
When you click the "add to cart" button, you will be directly transferred to the PayPal shopping cart page. Please change the quantity if you would like to buy more than one ticket. Following this, please click the "Proceed to checkout" button.
Tokyo Fish Market and Asakusa Walk -from Hotel (WT07)
"View Cart" Button
Please use this button when you'd like to check "Your Shopping Cart".
*If the number of quantity is incorrect, check the "remove" button and click the "update cart" button (on "Your Shopping Cart"). The quantity will return to 0.
Step4:Payment from PayPal will be sent after receiving the program fee from you. Please come to the meeting place on the day with the copy of the mail. IJCEE staff will be waiting for you with name plate.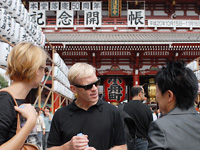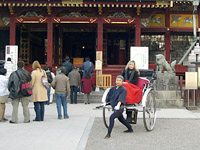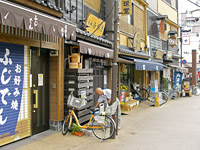 Cancellation Charge (Cancellation Policy)
If you cancel your reservation, the following cancellation rates and remittance charge will be charged.
(1) 14 days - 3 days prior to the program date: 20 % of the program fee
(2) 2 days of the day before the program date: 50 % of the program fee
(3) a day before the program date: 100 % of the program fee
Tsukiji Fish Market Walk Tour Calendar
Please use this calendar when you'd like to check the dates.
| | | | | | | |
| --- | --- | --- | --- | --- | --- | --- |
| Code | Tour Title | | | | | |
| WT01 | Fish Market Walk & Sushi Making (8:30-13:30) | | | | | |
| WT02 | Fish Market Walk and Sushi Lunch (8:15 - 11:30) | | | | | |
| WT06 | Fish Market Walk -from Hotel (8:15-10:45) | | | | | |
| WT07 | Fish Market and Asakusa Walk -from Hotel (8:00-12:00) | | | | | |
| WT15 | Tuna Auction Watching Tour (4:00-8:00) | | | | | |