Cultural Experience
Shopping at a Supermarket and Home-cooking with Seasonal Ingredients (TK02)
Experience real daily Japanese life in this intriguing program. Participants will go shopping at like a local market and buy various ingredients. Following this learn and enjoy making typical Japanese home-cooked dishes under the guidance of your Japanese instructor. The focus of the dishes will be on seasonal flavors, tastes and healthy cuisine. After cooking enjoy the dishes you have created!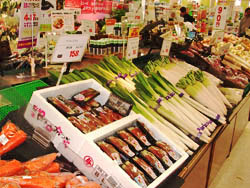 Duration and Program Fee
Program Fee (Per Group in Japanese yen)
Number of
Participants

1

2

3

4

Over 5people *1

3 1/2 hours
*1: each additional person
*Program fee for children under 5 years old is free.
*Programs will be held at Koryuan or at special halls made for specific purposes in Tokyo and Kansai areas (including Kyoto, Osaka and Kobe). You can meet your guide at the nearest station to the location of those experiences to take place.
*Optinal: Pick-up service will be extra charge. Please click for Pick-up service.
Application Procedure
Step1: Please send the following information to IJCEE at info@ijcee.com.
1. Desired program name 2. Desired date and time 3. Number of participants (including children) 4. Group leader's name 5. Group leader's nationality 6. With or without pick-up
Step2: IJCEE will reply and inform whether or not the program is available.
Step3: Please purchase ticket(s) using the form below. You can pay with your credit card, debit card and PayPal acount.
When you click the "add to cart" button, you will be directly transferred to the PayPal shopping cart page. Please change the quantity if you would like to buy more than one ticket. Following this, please click the "Proceed to checkout" button.
Shopping at a Supermarket and Home-cooking with Seasonal Ingredients
"View Cart" Button
Please use this button when you'd like to check "Your Shopping Cart".
*If the number of quantity is incorrect, check the "remove" button and click the "update cart" button (on "Your Shopping Cart"). The quantity will return to 0.
Step4:A payment notification from PayPal will be sent to you after receiving the program fee. Please come to the appointed meeting place on the program day with a copy of this mail. Our IJCEE staff will be waiting for you with a name-board.
Cancellation Charge (Cancellation Policy)
If you cancel your reservation, the following cancellation rates and remittance charge will be charged.
(1) 14 days - 3 days prior to the program date: 20 % of the program fee
(2) 2 days of the day before the program date: 50 % of the program fee
(3) a day before the program date: 100 % of the program fee
Application Conditions
(1) If you have any food-related allergy or other dietary restriction owing to your religion or other reasons, or if children under 5 years old would like to join the program, or if you need any special attention, please inform IJCEE in advance. IJCEE will try to accept your requests as far as they are legitimate and feasible. However, to avoid causing other participants inconvenience and to conduct the program safely and smoothly, your participation may be rejected by IJCEE.
(2) IJCEE shall not be liable for damages incurred by clients if the following reason applies:
In case clients purchase ingredients other than the ones provided by IJCEE at their own will and those ingredients cause food poisoning and other damages to the clients.