Cultural Experience
Casual Kimono Wearing Study (Yukata Wearing) (TC04)
In this program, guests will have the unique chance to wear a Yukata (a light cotton kimono) with an Obi (a sash) of their choice. Assisted by the instructor, you will learn how to dress yourselves in a Yukuta. Then we will help you take photos in the room or in the garden. If weather permits, you can walk around a park nearby wearing a Yukata. At the time of the booking, at your option, you can sign up to purchase the Yukata and obi that you will wear on the day, so that you can take them home with you.
*If you would like to experience various aspects of Japanese culture in a single day, we can offer a specially priced package.

Yukata (Casual Kimono) Wearing and Tea Ceremony (TC09)
Experience Pictures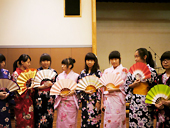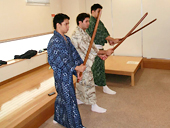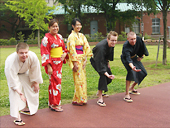 Experience Report
Duration / Venue
45 - 60 minutes
At Koishikawa Koryuan (Access MAP) or some other venues
*Please contact us for the time and the place. (info@ijcee.com)
Program Fee
Program Fee (Per Group in Japanese yen)
Number of
Participants

1

2

3

4

Over 5people *1

45 - 60 minutes
*1: each additional person
*Programs will be held at Koryuan or at special halls made for specific purposes in Tokyo and Kansai areas (including Kyoto, Osaka and Kobe). You can meet your guide at the nearest station to the location of those experiences to take place.
*Optinal: Pick-up service will be extra charge. Please click for Pick-up service.
Application Procedure
Step1: Please send the following information to IJCEE at info@ijcee.com.
1. Desired program name 2. Desired date and time 3. Number of participants (including children) 4. Group leader's name 5. Group leader's nationality 6. With or without pick-up
Step2: IJCEE will send back to you and inform whether or not the program is available.
Step3: Please purchase ticket(s) from below. You can pay with your credit card, debit card and PayPal acount.
When you click "add to cart" button, you will move to PayPal shopping cart page. Please change the quantity if you would like to buy tickets more than one. And click "Proceed to checkout" button.
Casual Kimono Wearing Study (Yukata Wearing)
"View Cart" Button
Please use this button when you'd like to check "Your Shopping Cart".
*If the number of quantity is incorrect, check the "remove" button and click the "update cart" button (on "Your Shopping Cart"). The quantity will return to 0.
Step4:A payment notification from PayPal will be sent to you after receiving the program fee. Please come to the appointed meeting place on the program day with a copy of this mail. Our IJCEE staff will be waiting for you with a name-board.
Cancellation Charge (Cancellation Policy)
If you cancel your reservation, the following cancellation rates and remittance charge will be charged.
(1) 14 days - 3 days prior to the program date: 20 % of the program fee
(2) 2 days of the day before the program date: 50 % of the program fee
(3) a day before the program date: 100 % of the program fee