Walk around in Southeast Kamakura (WK05)
Let's enjoy strolling around the street of the southeast Kamakura area in sea breeze!
Dates/Time Duration
Every day (Prior booking essential)
9:30 - 12:30 or 13:30 - 16:30
Meeting Place
Meet at Kamakura Station, East exit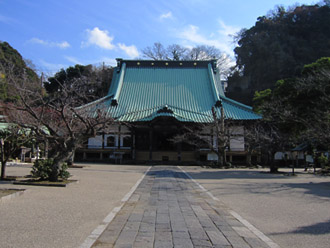 Komyoji Temple

Program Fee
(Per Group in Japanese yen)
Number of
Participants

1

2

3

4

Over 5people *1

180 minutes
*1: each additional person
*The tour price includes the guide fee, transportation fee and temple admission fee. (the cost of lunch is not included)
(English guides are always available. Please contact us if you need French or Spanish guides)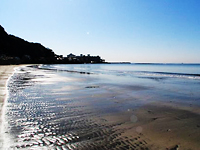 Zaimokuza beach (Pacific Ocean)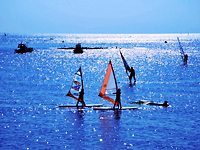 Zaimokuza beach (Pacific Ocean)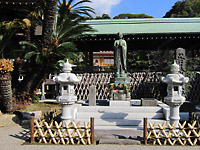 Buddhist statue (Komyoji Temple)
Tour itinerary
Kamakura is one of the most attractive tourist destinations near Tokyo. The ancient temples and shrines that are spread throughout the city are a must for tourists, but this course focuses on the southeast area where commoners resided in the days of the Samurai. Its many temples and shrines are complemented by a beautiful seaside location, traditional and cozy shops and a pleasant market. Its various faces make it an exquisite place to visit.
Why not come to Kamakura for a nice walk through these unique spots?
---
After riding on a bus for 10 minutes from Kamakura station, a panoramic view of the Pacific Ocean can be expected. Walking on Zaimoku-za beach, please imagine the days when this place was flourished with merchants and artisans.
At Komyoji temple nearby the beach, a huge two-storied main gate welcomes visitors. The temple has two beautiful gardens – a dry landscape garden and a Japanese traditional style garden which was designed by a noteworthy artist 400 years ago. We can walk around the tatami-matted hall and have a close look at the Buddhist statues and arts.
It is pleasant to drop in cozy local shops as well as temples and shrines while coming across surfers carrying a surfboard. In this area they suffered the damage of the Great Kanto Earthquake 80 years ago, but they keep their business going just like they used to be.
Then we head for Ankokuronji temple, where Nichiren, one of the founders of a Buddhist sect, wrote his religious thesis in the 13th century. He is said to have chanted sutra on the hill in the direction of Mt.fuji every morning. From the hill visitors can enjoy the view of Samurai city, the Hakone mountain range and Mt.Fuji in a distance if the weather is nice. Let's take a break, having Japanese tea in the garden of the temple where various flowers are blooming throughout a year.
Strolling along the tranquil residential area, we visit small temples and shrines and call in several shops for local people where you can appreciate traditional Japanese things such as Kimono or utensils for the tea ceremony. It's available to experience wearing beautiful Kimono and have taken pictures by professional photographers (optional extras, prior booking essential).
You may learn that Japanese people have been living with tradition and preserving it for a long time.
The final attraction of this tour is a small but pleasant market selling local vegetables, fruits, bread and cakes. All of them are fresh and delicious! It's a good idea to buy them for lunch at the beach or to take home as a souvenir.
Notes
*Please wear the proper clothing and shoes for walking.
Inquiry
E-mail: info@ijcee.com
Phone: 090-1607-5099 Yonehara or 080-3313-1107 Kikuchi
Application Procedure
RSVP is required. Please purchase ticket(s) from below. You can pay with your credit card, debit card and PayPal acount.
When you click "add to cart" button, you will move to PayPal shopping cart page. Please change the quantity if you would like to buy tickets more than one. And click "Proceed to checkout" button.
Walk around Southeast Kamakura
"View Cart" Button
Please use this button when you'd like to check "Your Shopping Cart".
*If the number of quantity is not right, check "remove" button and click "update cart" button (on "Your Shopping Cart"). The quantity will return to 0.
Process4:Payment from PayPal will be sent after receiving the program fee from you. Please come to the meeting place on the day with the copy of the mail. IJCEE staff will be waiting for you with name plate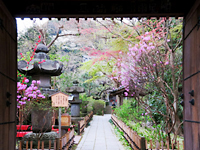 Ankokuron-ji Temple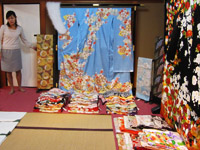 In a Kimono shop (with a history)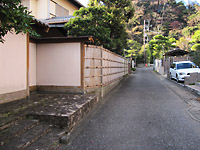 Walk through the tastefull streets
Cancellation Charge (Cancellation Policy)
If you cancel your reservation, the following cancellation rates and remittance charge will be charged.
(1) 14 days - 3 days prior to the program date: 20 % of the program fee
(2) 2 days of the day before the program date: 50 % of the program fee
(3) a day before the program date: 100 % of the program fee