An Approach to Zen Temples (Kamakura) (WK03)
Walk around zen temples in north Kamakura. Well-informed tour guides will introduce you to zen spirit and meditation.
Dates/Time Duration
Every day (Prior booking essential)
9:30 - 12:30 or 13:30 - 16:30
Meeting Place/Meeting time
Meet at the entrance of Engakuji Temple - nearby Kita Kamakura station (North Kamakura Station)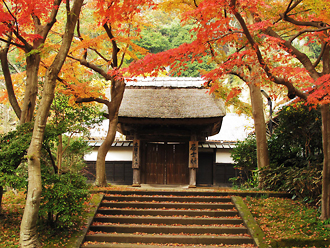 Program Fee
(Per Group in Japanese yen)
Number of
Participants

1

2

3

4

Over 5people *1

180 minutes
*1: each additional person
*The tour price includes the guide fee, transportation fee and temple admission fee. (the cost of lunch is not included)
(English guides are always available. Please contact us if you need French or Spanish guides)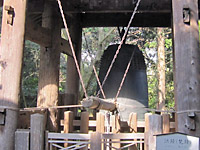 Great Bell (a National Treasure)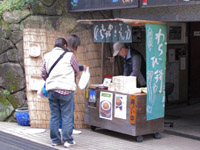 A snack stand (Japanese sweets "Warabi-mochi")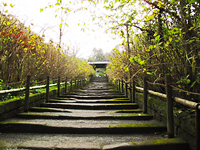 A slope to Meigetsu-in Temple
Tour itinerary
Engakuji Temple
Engakuji Temple is ranked 2nd in the Five Great Zen Temples in Kamakura. The buildings stand in a straight line from Somon (the Main Gate) to the innermost building. This is the typical Zen style. O-gane (Great Bell) is designated as a national treasure. After visiting Butsuden (the Buddhist Sanctum) which houses the principal image, you can enjoy the views from Ryoan-in (one of the subordinate temples) on the top of the hill, and the beautiful front garden of the Hojo (the chief priest's residence). Zen spirit with 800 years' history has healed people who practice Zen at the training hall near the national treasure called Shari-den (the Reliquary Hall).
Meigetsu-in Temple
Meigetsu-in is known as a flower temple. A dry landscape garden, mainly composed of rocks and white sand, was created as a Zen training place. The soothing sound of dripping water in Tsurube-No-I (one of the Ten Wells in Kamakura) and flowers adorned every here and there in the precincts make you feel the beauty of Japan.
Tokeiji Temple
In the Edo Period, a wife could not divorce her husband without permission of the husband himself. Once such women in trouble ran into this temple, however, they were entitled to a divorce by the law of the temple. Tokeiji was the only convent granted the authority by the Shogunate. Its treasure museum includes the material concerning marriage which tells us about such women's sorrow and pain, Makie lacquer works, pictures, calligraphy and ancient documents. You can also appreciate "Suigetsu (water moon) Kannon" said to be the most beautiful Kannon statue in Kamakura.
Notes
*Please wear the proper clothing and shoes for walking.
Inquiry
E-mail: info@ijcee.com
Application Procedure
RSVP is required. Please purchase ticket(s) from below. You can pay with your credit card, debit card and PayPal acount.
When you click "add to cart" button, you will move to PayPal shopping cart page. Please change the quantity if you would like to buy tickets more than one. And click "Proceed to checkout" button.
An Approach to Zen Temples
"View Cart" Button
Please use this button when you'd like to check "Your Shopping Cart".
*If the number of quantity is not right, check "remove" button and click "update cart" button (on "Your Shopping Cart"). The quantity will return to 0.
Process4:Payment from PayPal will be sent after receiving the program fee from you. Please come to the meeting place on the day with the copy of the mail. IJCEE staff will be waiting for you with name plate.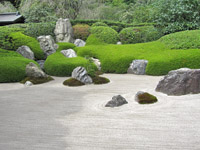 The dry landscape garden (Meigetsu-in)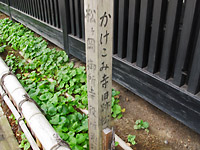 There still is a sign as a "devorce Temple". (Tokeiji Temple)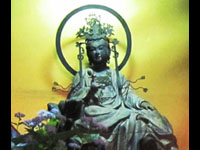 Suigetsu (water moon) Kannon
Cancellation Charge (Cancellation Policy)
If you cancel your reservation, the following cancellation rates and remittance charge will be charged.
(1) 14 days - 3 days prior to the program date: 20 % of the program fee
(2) 2 days of the day before the program date: 50 % of the program fee
(3) a day before the program date: 100 % of the program fee