Zen Garden and Tea Ceremony (Kamakura) (WK04)
Visit zen gardens and tea ceremony rooms in temples in east Kamakura. You also can see several Buddhist statues.
Dates/Time Duration
Every day (Prior booking essential)
9:30 - 12:30 or 13:30 - 16:30
Meeting Place/Meeting time
Meet at Kamakura Station, East exit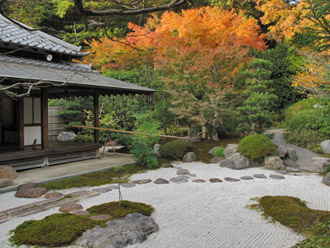 Program Fee
(Per Group in Japanese yen)
Number of
Participants

1

2

3

4

Over 5people *1

180 minutes
*1: each additional person
*The tour price includes the guide fee, transportation fee, temple admission fee and a drink at a cafe. (the cost of lunch is not included)
(English guides are always available. Please contact us if you need French or Spanish guides)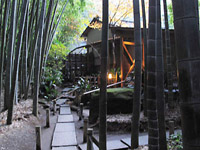 Bamboo Forest (Hokokuji Temple)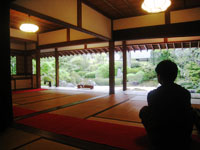 "Kisen-an" (Jomyoji Temple)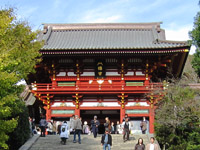 Tsurugaoka Hachiman Shrine
Tour itinerary
Hokokuji Temple
Hokokuji is known as "Bamboo Temple". About 2,000 straight and tall bamboos rise heavenward, and sunlight gets into them. In the bamboo garden, only the sound of streams and rustling leaves break the silence. This makes you feel like being in another world far from busy urban life.
Jomyoji Temple
Jomyoji is ranked 5th in the Five Great Zen Temples in Kamakura. In the tea room called "Kisen-an", you can be relaxed with drinking matcha (powdered green tea). You can also enjoy appreciating the dry land
Application Procedure
RSVP is required. Please purchase ticket(s) from below. You can pay with your credit card, debit card and PayPal acount.
When you click "add to cart" button, you will move to PayPal shopping cart page. Please change the quantity if you would like to buy tickets more than one. And click "Proceed to checkout" button.
Zen Garden and Tea Ceremony
"View Cart" Button
Please use this button when you'd like to check "Your Shopping Cart".
*If the number of quantity is not right, check "remove" button and click "update cart" button (on "Your Shopping Cart"). The quantity will return to 0.
Process4:Payment from PayPal will be sent after receiving the program fee from you. Please come to the meeting place on the day with the copy of the mail. IJCEE staff will be waiting for you with name plate.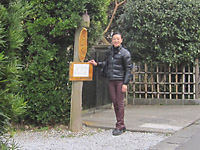 On a street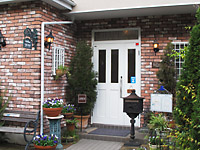 A cafe
Cancellation Charge (Cancellation Policy)
If you cancel your reservation, the following cancellation rates and remittance charge will be charged.
(1) 14 days - 3 days prior to the program date: 20 % of the program fee
(2) 2 days of the day before the program date: 50 % of the program fee
(3) a day before the program date: 100 % of the program fee