IJCEE Kyoto Tours
I'm very happy to announce that IJCEE has just started seven special private tours in Kyoto.
We, state-licensed guides, will pick you up right at your hotel, and take you not only to popular tourist spots but also to small alleys and markets which you would miss without us. Today let me introduce one of the courses, "Higashiyama Kyoto Half Day Tour."
Higashiyama district is the most popular tourist spot in Kyoto. It's because the area has still kept the atmosphere of the good old days and has attracted visitors by making them feel like they had traveled back in time of 200 years ago.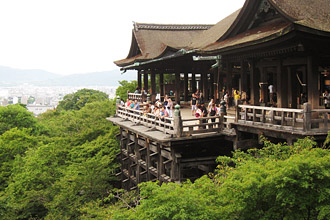 Kiyomizu Temple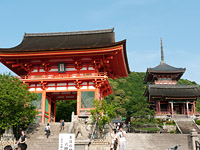 Kiyomizu Temple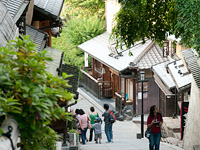 Sannenzaka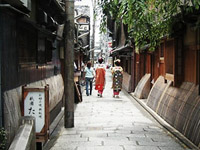 Gion
Kiyomizu Temple
I'll take you to Kiyomizu temple first. It predates the foundation of Kyoto and has had millions of pilgrims ever since. It's designated as a UNESCO World Heritage site with over 30 structures. This is the huge wooden veranda in front of the main hall, which juts out over the cliff and provides you a panoramic view of Kyoto.
After leaving Kiyomizu temple, let's go down on the sloped path paved with stones, which is lined with old wooden houses running restaurants and shops selling pottery, artworks and other traditional goods. But be careful. If you fell down on this slope Sannenzaka, you would have bad luck for 3 years. In case of that, why don't you buy a dried gourd, hyotan in this shop? It is said to have a magical power to clean off your bad luck and keep you in a good shape.
Gion
On the journey of the paved alley, you may come across some beautiful women dressed in kimono of geiko or maiko―professional female entertainers trained in traditional Japanese dance, playing music and singing. But they're not real. So you could become like them in a snap at a transformation studio! Of course, our course covers Gion, the town of REAL geiko and maiko. I'll tell you their life and how to tell them from fake ones while walking through the town.
Nishiki Market
After the elegant walk in the old towns, you may be very hungry and it is a good time to get some in the Nishiki Market with the variety of foods. You will learn the Japanese food culture and I will tell you some of the most delicious ones from my secret list.
We are looking forwards to seeing you in Kyoto!
The tour costs \14,500 for a group of two people, including transportation fare and one drink.
[Contact US]
Email : info@ijcee.com
Phone : Tokyo 080-3313-1107 / Kyoto 080-6542-9483
Address : 〒106-0047 5-2-39-503 Minami-Azabu Minato-ku, Tokyo, Japan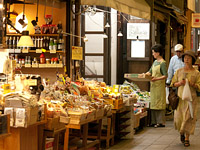 Nishiki Market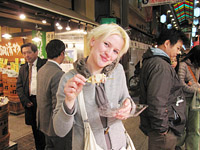 Nishiki Market