The Ghibli Museum Tour (WT10)
Here is an opportunity to visit the Ghibli Animation Museum that attracts many avid animation fans and creators from around the world.
Dates/Time Duration
Everyday (Except Tuesdays)
4hours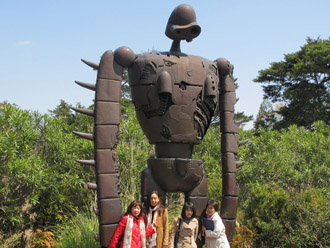 Program Fee
(Per Group in Japanese yen)
Number of
Participants

1

2

3

4

Over 5people *1

4hours
*1: each additional person
Meet at your hotel (Meeting Place)
*The tour price includes the following fees: Guiding fee, ticket of the ghibli museum, public transportation costs such as trains and buses. (For taxis or hired cars, additional fees will be charged.) The cost of lunch, beverages and sightseeing activities is not included.
*For tours within Tokyo: pick-up service from hotels is available. Select a hotel that is located within 10 minutes walk from any station on the Yamanote line or within the Yamanote line circle.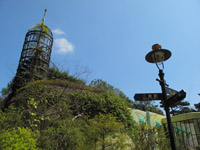 Find your treasure here!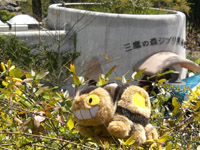 The Cat Bus is waiting for us!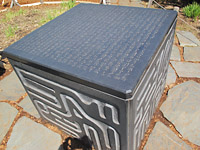 Do you have a Volucite crystal?
Tour outline
The Ghibli Museum in Mitaka, founded by the prominent movie director Hayao Miyazaki, has been attracting a lot of visitors since 2001. The interactive displays of the museum engage all of the your senses and take you on a journey of discovery. From movies to exhibits that show Miyazaki's animation process, the museum offers something for everyone – and not just those who are already Ghibli fans. Children can enjoy a ride on the fluffy Cat Bus, from the iconic "My Neighbour Totoro" movie, and everyone can relax on the roof top garden in the shade of a Giant Robot Soldier, which is the guardian of the Ghibli Museum.
However, as this museum doesn't have English captions, explanations or audio guides, you will need to be attended by one of our bilingual guides who has special knowledge of the facility.
The themes of director Hayao Miyazaki's films usually employ the belief of a world where spirits reside in nature. These spirits, both good and evil, such as the sun, seas, rivers, wind, stones, trees, animals, interact and live harmoniously with humans. After visiting the museum, we'll explore the town of Kichijoji through Inokashira Park, along with the forest of Musashino that produced and nourished the unique philosophy of Miyzaki's animation.
Application Procedure
RSVP is required. Please purchase ticket(s) from below. You can pay with your credit card, debit card and PayPal acount.
When you click "add to cart" button, you will move to PayPal shopping cart page. Please change the quantity if you would like to buy tickets more than one. And click "Proceed to checkout" button.
The Ghibli Museum Tour (WT10)
"View Cart" Button
Please use this button when you'd like to check "Your Shopping Cart".
*If the number of quantity is not right, check "remove" button and click "update cart" button (on "Your Shopping Cart"). The quantity will return to 0.
Payment from PayPal will be sent after receiving the program fee from you. Please come to the meeting place on the day with the copy of the mail. IJCEE staff will be waiting for you with name plate.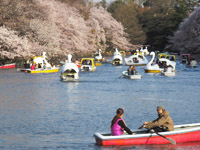 Inokashira Park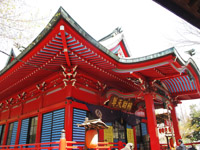 Benzaiten Shrine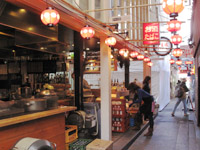 Harmonica Street in Kichijoji
Cancellation Charge (Cancellation Policy)
If you cancel your reservation, the following cancellation rates and remittance charge will be charged.
(1) 14 days - 3 days prior to the program date: 20 % of the program fee
(2) 2 days of the day before the program date: 50 % of the program fee
(3) a day before the program date: 100 % of the program fee