Asakusa Walk -from Hotel (WT09)
Course
Pick up from customer's hotel lobby, and then travel to Asakusa via public transportation, such as the JR or Metro lines. Visit Senso-ji Temple, Nakamise Street and Dempoin Street. The tour will conclude at Asakusa staion. (Ginza line or Asakusa line)
Dates/Time Duration
Everyday 9:00- 12:00 (3 hours)
Reservations are required. We are flexible with the meeting time depending on your request.
Program Fee
(Per Group in Japanese yen)
Number of
Participants

1

2

3

4

Over 5people *1

3hours
*1: each additional person
*Guides are always available in English. Please contact us if you need guides in French or Spanish.
Meet at your hotel (Meeting Place)
*The tour price includes the following fees: Guiding fee, public transportation costs such as trains and buses. (For taxis or hired cars, additional fees will be charged.) The cost of lunch, beverages and sightseeing activities is not included.
*For tours within Tokyo: pick-up service from hotels is available. Select a hotel that is located within 10 minutes walk from any station on the Yamanote line or within the Yamanote line circle.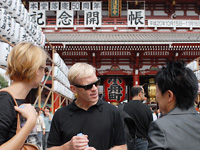 Tour Point
Since the Edo period (1603-1868) Asakusa has been the most popular tourist site in Tokyo. Today, Asakusa remains the No.1 destination for foreign tourists. Nakamise street is the oldest shopping arcade in Tokyo, and is always bustling with visitors enroute to Senso-ji Temple. Be transported back in time in Dempoin Street, where you can enjoy the atmosphere of the Edo period. To really get a sense of Japanese life, why not visit a kimono shop where you will be able to try on a traditional kimono? Then take a walk in your kimono to the nearby Taiko Drum Museum. But, no matter where you are in Asakusa, you can be sure to find many delicious restaurants and souvenir shops.

Application Procedure
Step1: Please send the following information to IJCEE at info@ijcee.com.
1. Desired program name 2. Desired date and time 3. Number of participants (including children) 4. Group leader's name 5. Group leader's nationality
Step2: IJCEE will reply and inform whether or not the program is available.
Step3: Please purchase ticket(s) using the form below. You can pay with your credit card, debit card and PayPal acount.
When you click the "add to cart" button, you will be directly transferred to the PayPal shopping cart page. Please change the quantity if you would like to buy more than one ticket. Following this, please click the "Proceed to checkout" button.
Asakusa Walk -from Hotel (WT09)
"View Cart" Button
Please use this button when you'd like to check "Your Shopping Cart".
*If the number of quantity is incorrect, check the "remove" button and click the "update cart" button (on "Your Shopping Cart"). The quantity will return to 0.
Step4:Payment from PayPal will be sent after receiving the program fee from you. Please come to the meeting place on the day with the copy of the mail. IJCEE staff will be waiting for you with name plate.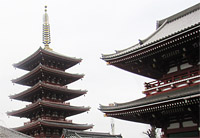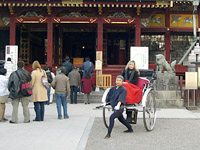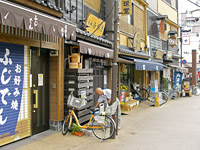 Cancellation Charge (Cancellation Policy)
If you cancel your reservation, the following cancellation rates and remittance charge will be charged.
(1) 14 days - 3 days prior to the program date: 20 % of the program fee
(2) 2 days of the day before the program date: 50 % of the program fee
(3) a day before the program date: 100 % of the program fee