体验日本文化
书法 (ETA101)
Learn the art of Japanese calligraphy in this hands- on, dynamic session, at a typical Japanese home or facility in central Tokyo. This program is dedicated to the area of Japanese culture which created "hiragana" and "katakana" from Kanji, (traditional Chinese Characters, once originating from China). Following this, participants will experience creating actual calligraphy. Guests will prepare the liquid ink traditionally from an ink stick then practice writing whatever they wish, such as kanji characters equivalent to the sound of your name. After some practice and concentration, participants will create a unique calligraphy piece. The perfect, original souvenir of a visit to Japan.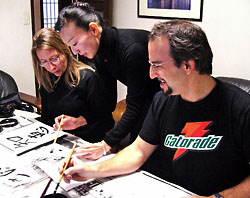 日本文化体验 价格表
价格表 (日元/Group)
参加人数

1

2

3

4

Additional fee
over 5people
(every person)

45~60分
※8%的消费税另收
* Usually the meeting place is the nearest station. Pick-up and return services are also available. A guide can meet you at your hotel upon request. Though we recommend taking public transportation so you will get to know the metropolitan area better, we can arrange a taxi or hire with you. Pick-up rate is 3,000 yen for 1 group each way within 45 minutes (1,500yen for every additional 30 minutes). Transportation costs are not included.
Application Procedure
Step1: Please send the following information to True Japan Tours at china@ijcee.com.
1. Desired program name 2. Desired date and time 3. Number of participants (including children) 4. Group leader's name 5. Group leader's nationality 6. With or without pick-up
Step2: True Japan Tours will reply and inform whether or not the program is available..
Experience Report